!–– COVID 19 CONTACTLESS DELIVERY MESSAGE ––> <!–– COVID 19 MESSAGE END ––>
Our Story
No Masks. No Queues, No Hassle.
We offer Next-Day delivery in Dublin, 7 Days a week.

In these changing and uncertain times, we know our customers value convenience more than ever. While at work at home or in the office, our customers no longer wish to queue for a sandwich from the local shop but choose healthy lunch meals, from our Fit Foods range including healthy, ready-made meals Fit Food Soups & Protein Pots, as well as breakfast and snacks. All you need to do is order online for next day delivery or pick a date and time that suits. We deliver 7 days a week until 9pm to your office or home.

Our Fit Foods Ready Meals are: Low calorie Macro friendly MSG Free Gluten free (except the pasta and noodles) Take 4 minutes in the microwave Come in 11 great flavours Eat Well. Live Well.
We can help your Slimming Journey

As well as our low-calorie Fit Foods range, we also offer a great range of slimming burgers, turkey burgers, Skinny Food Co Sauces, and JD seasonings. We are also the exclusive global stockist of the NEW Lo Dough Pizza. At just 302 calories and just 5g of carbs (as well as gluten-free!), this pizza is set to turn healthy indulgence on its head. Whether dieting for health & wellness, slimming group or for fitness, the Lo-Dough Margherita is the miracle pizza that will fit perfectly into your diet and lifestyle, no matter what form it takes.

Our Slimming World Pack also contains everything you would need for meal prep for the week ahead. Syn free meats for food optimising and low syn treats, we've got you covered! Our Slimming World Pack is only €45 and contains 500g diced chicken 700g mince 2 Protein Pots (low syn snacks on the go) 1 pack of slimmers sausages and slimmer pudding (black or white) 1 pack of Meringue Bytes and 1 Meringue Bar
Introducing New Dublin Meat Company Premium Steaks

Introducing Dublin Meat Company Premium – because sometimes you want something that little bit special.

Our knowledge and expertise combine to produce these restaurant quality, perfectly aged, grass-fed steaks.

Chosen for their marbling and condition, these 100% Irish steaks have been aged for a minimum of 28 days, hung to dry for a further 3 days and cut only when at the point of absolute perfection.

Choose from
2 * 10oz Striploin - €16
2 * 10oz Ribeye - €16
2 * 6oz Fillet - €16
1 * 16oz Tomahawk - €12

From our family to yours, Enjoy! Available in all our shops or online for next-day delivery in greater Dublin.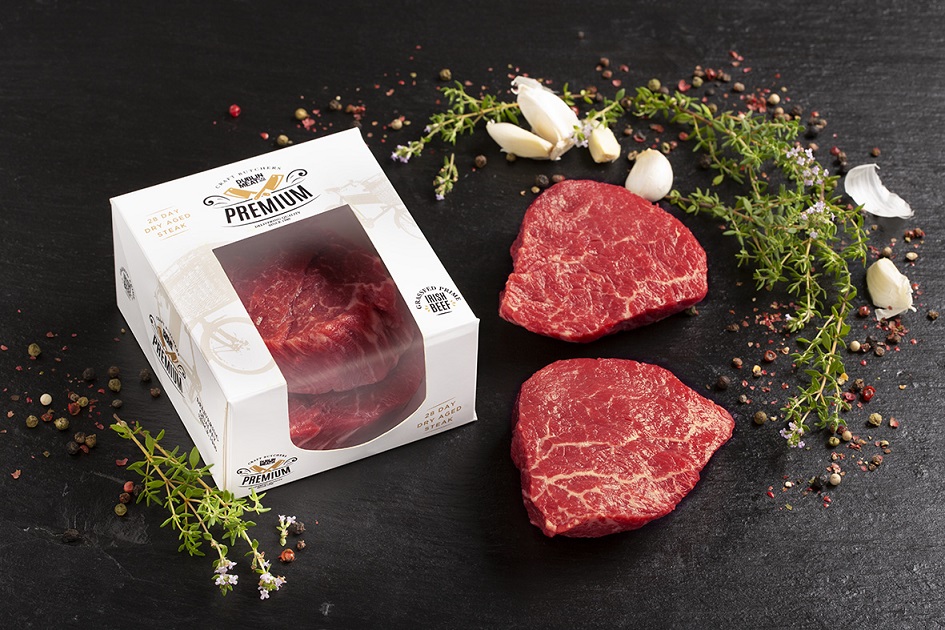 You asked. We Listened!

You wanted one Fit Foods pack which would sort you out for breakfast, lunch and snacks for the week. Introducing the NEW Fit Foods 5 Day Handy Pack!

Chose any 5 Fit Food Ready Meals, any 5 Protein Pots and any 5 Everest products for only €45.

  All this goodness in one pack - Low calorie ready meals ready in only 4 minutes with loads of gluten free options. Little pots of cooked chicken with a low calorie dip (and a handy fork) for smart snacking on the go. And Porridges, Yogurts and Protein Bars from Everest -  helping you to reach your peak and be the best you.

Order online now for next-day delivery anywhere in Dublin or chose a slot that suits. We deliver 7 days a week. No queues. No masks. No hassle.
Dublin Meat Company - The Home of Fit Foods

Dublin Meat Company is an Irish owned and family run craft butchers with over 40 years' experience. For decades we have supplied premium quality meat to our customers at up to 40% less than supermarkets with no compromise on quality. The first Dublin Meat craft butcher shop opened in 2006 under the helm of Paddy O'Leary. Prior to this, Paddy had built up a loyal customer base with his shop in the Northside Shopping Centre for over 35 years. There are now six successful retail shops in Artane, Swords, Blanchardstown, Stillorgan & Drogheda (north and south).

Our concept is simple: We keep our overheads low to pass our savings on to our loyal customer base, as well as helping them enjoy a healthy and balanced diet. We deal directly with quality assured Irish meat suppliers to bring the best of Irish meat at excellent prices direct to your door. Our 40 years' experience in the industry has given us the ability to handpick premium Irish meat at unbeatable prices. We have always had a dedication to excellent customer service.
Top